Go Solar with Velux and Save Big!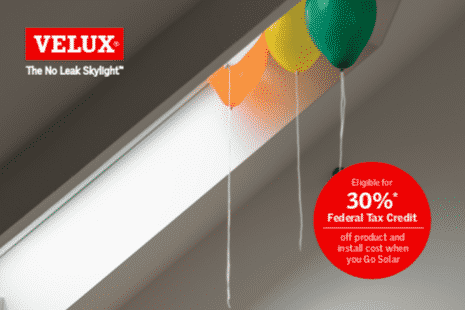 Velux Solar Power Incentives
Did you know that when you Go Solar by purchasing VELUX solar-powered products for your home, you are eligible for a 30% federal solar tax credit on the entire cost of your products and installation?
 Just ask for the Go Solar option with your skylight to save big! 
The Sun provides us with more energy in a single hour than the entire world uses in a year. So, why depend on energy from anywhere else? 
Velux Solar Power Products & Installation
Velux offers a complete line of skylight products and complementary accessories from installation to the finishing touches. Choose from a wide variety of skylight models to find the bets skylight for your home.
You can now download the Velux Active app now for a smarter, healthier home!
Whether you're at home or away, Velux Active is your home's climate control and monitoring system. Trusted to create a healthier home environment, Velux Active's sensor-based controls pair with your smartphone and automatically adjust your skylights and blinds for ideal temperature and air quality.
Give our trusted team at Goldfinch Bros a call to learn more about Velux today!